Role of Biomedical Sales Engineer
No one dreams about working as a sales engineer after graduating as a biomedical engineer, but with limited options available one may try his hand at this job.
Biomedical being such a huge industry and its product base being enormous the companies are in need for sales and marketing people. Many national and multi-national companies have set their base and there are distributors for the products of these companies, so the job opportunities are always available.
Having said this it is always better to work for a Parent company than for a distributor.
A dream job would be getting an opportunity to work for Draeger, Maquet, GE, Philips, Smiths Medical, Olympus.
List of 25 Dream companies every biomedical engineer wants to work for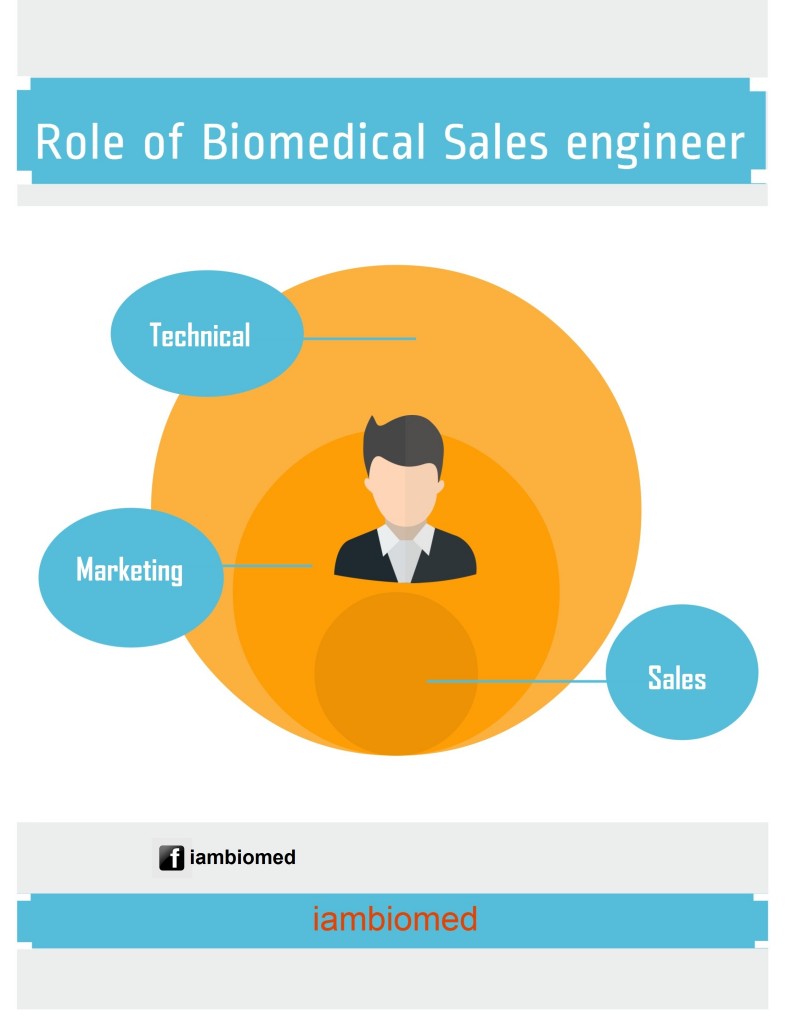 Why do companies hire engineers for the sales and marketing job?
The reason why companies want graduates is precisely because they want to exploit the skills, knowledge and talent which graduates can bring to the marketplace.
Technical knowledge is a pre-requisite for this job and without technical knowledge it would be difficult to market any product. And who else other than a biomedical engineer would better understand the concepts of biology and electronics.
Before you put your foot in the market you are trained about the products in your company's portfolio. That's when you realise that the technology is changing rapidly and it's very different from what you have studied in your text books.
Sales engineer presents the technical aspects of how the product solves specific customer problem.
Sales engineer combine technical knowledge with marketing and sales skills to provide advice and support on products.
There are couple of misconceptions about this job profile. People may think that you are a MR.
However you are not a Medical Representative (MR). You will be educating the doctors about the new technologies, new equipments, in fact you will be providing solutions to them. The doctors do appreciate this (there are some exceptions).
With sales and marketing job you always develop contacts. These contacts can always come handy in future.
You develop good communication as well as convincing skills.
Generally a 'marketing or sales' engineer is offered more salary as compared to a service engineer.
Experience plays a big role while deciding the salary package. Package offered by the Parent company is much more than the dealer.
To be successful in sales you need to be able to convince people that your product is just so utterly indispensable that they have to buy it, no matter what.
You need to be super-confident, very articulate and love meeting new people face-to-face and over the telephone.
Workflow for achieving sales:
Cold calls: searching for new clients who might benefit from company products or services
Get all the contact details of the clients, customers.
Identify the contact, identify the decision maker. When promoting anaesthesia machine you will have to meet the anaesthetist or for ventilator you will have to contact the intensivist.
Identify the need. Educate the client.
Organise a demonstration of your product.
Identify the purchase time frame.
Submit a quotation.
Do follow ups.
Negotiate.
Win the deal.
Your company will emboss targets upon you. Sometimes these targets maybe hard to achieve as the order depends on the requirement of the customer.
Sales and marketing job requires exhaustive travelling. Travelling can be tough as well as tiresome especially during the hot summer.
Finally doing a sales and marketing job depends on personal interest. Only if you love it you can succeed in it!
-Aditya Ekawade
(This article is based on experience in Mumbai, India.
For any suggestions please comment below.)
Do like iambiomed on facebook